The American 180 M-2 Rifle
LIMITED EDITIONS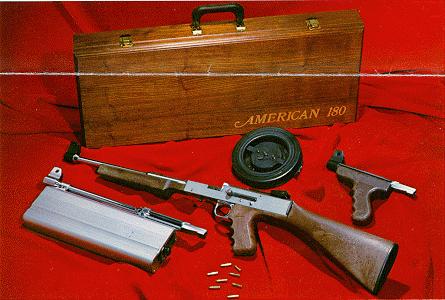 The American 180, known for its reliability and accuracy, is now being made available in two limited edition versions. These 899 unique weapons will carry the lowest serial numbers of the American-made American 180 M-2 rifles, giving them great value as collectors' items.
Serial numbers 101 through 400 will be finished in chrome/stainless steel as pictured above. The weapons feature the finest walnut stocks and serially numbered parts, shipped in a hand crafted case with marquetry. All weapons will be hand assembled and finished.
Serial numbers 401 through 999 will be finished in a premium bluing as pictured with the same features as the chrome version. A short barrel, Laser-Lok sight finished to match the weapon permanently mounted on an extra barrel and a highly effective silencer are optional.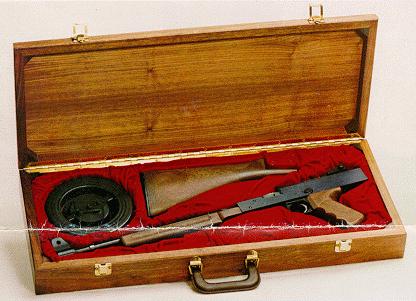 Delivery of these limited edition models is scheduled to begin in September of 1980. These prices shown below will be in effect for advance orders:
Chrome Finish
Blue Finish
Gun & Case
$3,500
Gun & Case
$1,995
Laser-Lok Sight
and Barrel
1,200
Laser-Lok Sight
and Barrel
1,000
Silencer
250
Silencer
200
Short Barrel
300
Short Barrel
300


Specifications:

   Caliber: .22 Long Rifle                     Weight, Empty: 5 3/4 lbs. Std.

   Overall Length: 35 1/4" Std. 18" Short                     4 3/4 lbs. Short

   Magazine Capacity: 177 Rounds               Weight, Loaded: Approx. 10 lbs. Std.

   Rate of Fire: Over 1800 RPM                                 9 lbs. Short


A deposit of 1/3 of the total amount ordered should accompany orders for these weapons with the balance due when unit is ready for shipment.
Please send all orders and inquiries to:
American Arms International, Inc.
P.O. Box 27163
Salt Lake City, Utah 84127
(801)-531-0180