Page 2 of 6

Those who know firearms agree: the American 180 has re-written gun history. No other hand-held weapon in the world delivers more lead on target than the 180. Little wonder this finely crafted American-made weapon is sought after by law enforcement agencies, governments, and military organizations throughout the world.

Now this unique firearm is being made available in three limited edition versions. These weapons will carry the lowest serial numbers of the American 180 rifles; giving them great value as collectors' items.

These limited edition weapons are available in three finishes: gold, chrome/stainless steel, amd a premium bluing. All weapons feature the finest walnut stocks and serially numbered parts, shipped in a hand crafted case. All weapons are hand assembled and finished. A short barrel, Laser-Lok sight finished to match the weapon permanently mounted on an extra barrel, anda highly effective silencer are optional.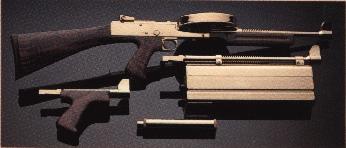 M-2 Limited Edition (Gold Plated)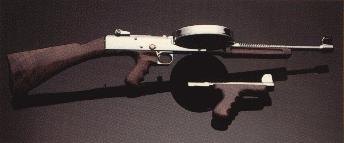 M-2 Limited Edition (Chrome)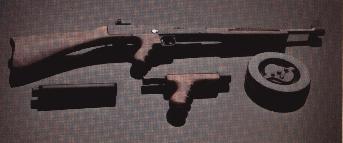 M-2 Limited Edition (High Gloss Blue)
| SPECIFICATIONS | AMERICAN 180 M-2 | AMERICAN 180 M-1 |
| --- | --- | --- |
| Length | 35 1/4" / 18" short | 36 1/2" |
| Weight (with magazine loaded) | 10 lbs. / 9 lbs. short | 10 lbs. |
| Magazine Capacity | 177 Rounds | 177 Rounds |
| Caliber | .22 | .22 |
| Sight Radius | 23 1/2" | 23 1/2" |
| Rate of Fire (automatic) | 1800+ | - - - |
| Firing Modes | Semi or Full Auto | Semi - Auto |
Page 2 of 6
---
[Home]
[Previous] | [Next]